Opus Hall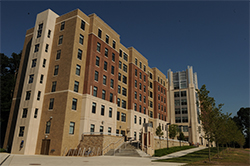 Opus Hall is a seven-story suite style residence hall. Each suite holds five residents with three single occupancy and one double occupancy bedrooms, sharing a common living area and bathroom. A shared kitchen facility is available on each floor.
Centennial Village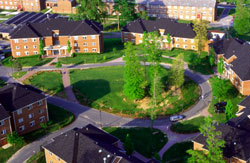 Centennial Village is a Colonial-style eight building housing complex which sleeps approximately 525 people. Each "Jack and Jill" suite is a double room connected to another double room by a bathroom. Each building has two or three floors of living quarters. Each building contains a lounge with cable television and a kitchen. There are a limited number of wheelchair accessible rooms in this style of living.
Additional Information
Cleaning Schedule: The bathroom and living areas within each suite are not cleaned while the suite is occupied.
Key Packs: All guests will also be given an access card for their building. Opus Hall guests will be given two keys (one apartment key and one room key) and all guests in Centennial Village will be given one room key.
Kitchen Facilities: Kitchen facilities do not include pots, pans, china, or utensils. If you are planning to use the kitchen, please bring your own cooking supplies.